Post by anni on Dec 23, 2018 19:21:42 GMT -8
Jeanne started this September, 2018. And I've been joining her because it sounded like such a good idea (even though we start early, at 8:00 am most Sunday mornings). It's a great way to start a Sunday...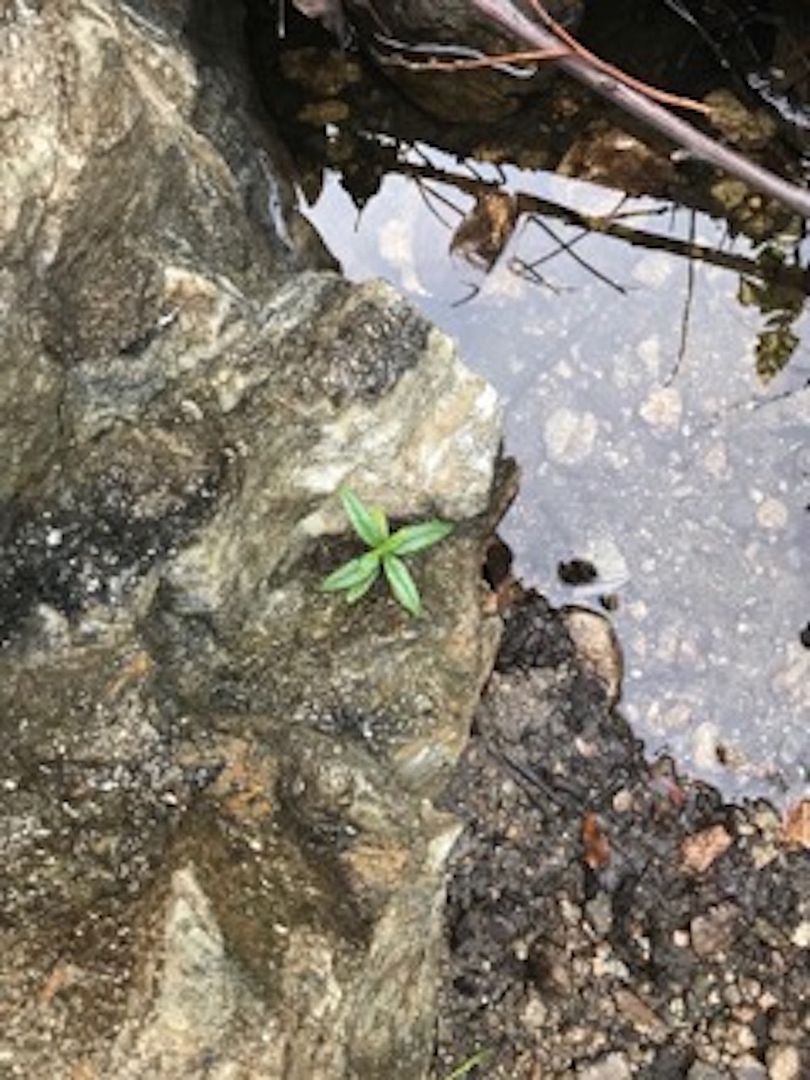 Greetings, Friends,
I captured this view of a persistent seedling on a recent Sunday morning Walk and Word hike. It was our first time up to the creek after the rains. It was wonderful to see pools that had formed and to hear the soothing sounds of running water. This is just one of the many meaningful moments we have experienced in the past three months. We have been still beneath old oaks, enjoyed the company of quail, and pondered the beauty of rock formations. The exercise, sights, scents, and sounds have worked together to open our minds to receive the wisdom that awaits in the short selections of scripture that we read after the walk. We have been amazed by the ease with which we have been able to find connections between the stories, poems, and prophecies written thousands of years ago and our situations in this time and place. I receive much reassurance in the perspective gained from finding that the crises and challenges that we face today are not all that different from those of our Abrahamic predecessors. My feet feel calm support from the ground that has existed for eons. Temporal concerns dissolve in the impartial presence of dirt. And the fledgling plant in the photo reminds me that life wants to live and grow and always invites us to participate.
Being in this little corner of creation on a regular basis with the intention of appreciating its wonders can bring healing to our broken relationship with our planet. I believe that being there with others with a similar intent can heighten the benefits.
I'm sharing these reflections for a few reasons. One is to let friends know what I've been up to and how the Walk and Word ministry is going. Another is to invite anyone who feels drawn to this alternative spiritual activity to give it a try some Sunday morning. We meet in the parking lot of Deukmejian Wilderness Park at 8 AM on the 2nd, 3rd, 4th, and 5th Sunday of each month. (I spend the 1st Sunday worshipping with my sisters and brothers at Crescenta Valley UMC in Montrose.) We walk for the first hour and then read, write, and share for the second. If you are not able to do the hike and still want to enjoy the the scenery and the journaling, there are several picnic tables with wheelchair access. We'll join you there at 9.
If you like the concept of Walk and Word, but can not be there, feel free to be there in spirit with me. Send me any prayers that you would like lifted and I will carry them up the trail and speak them. If you know anyone who may be interested, please share this email with them. If you can be there in person, I hope to see you on 12/23 and/or 12/30.
Peace,
Jeanne Lavieri
How beautiful upon the mountains are the feet of the messenger who announces peace…
Isaiah 52:7